An Internet e-commerce store Rakuten has introduced a new and funny item called 'fried chicken pants'. We have witnessed a number of bizarre fashion trends throughout the span of our existence that we feel that nothing more can take us for a ride. But these 'fried chicken pants' managed to prove us wrong.
Must Read- 11 Reasons Why Men These Days Are Fond Of Chunky Women!
The Fashion week in Europe has come to an end, and designers have reached back in their spaces to think of designs for next year. In case any of them is falling short of ideas and inspiration should take a glance at their too weird friend chicken pants.
A Japanese Twitter user @k_kazu_magi spotted these hilarious trousers and these peculiar trousers have been doing rounds since then. We all love KFC for the delicious fried chicken it offers, but to eat not to wear, right? They are too much to handle.
Twitter user @k_kazu_magi tweeted in Japanese and introduced these pants.
"All I can think about when I look at these pants is KFC," he tweeted in Japanese.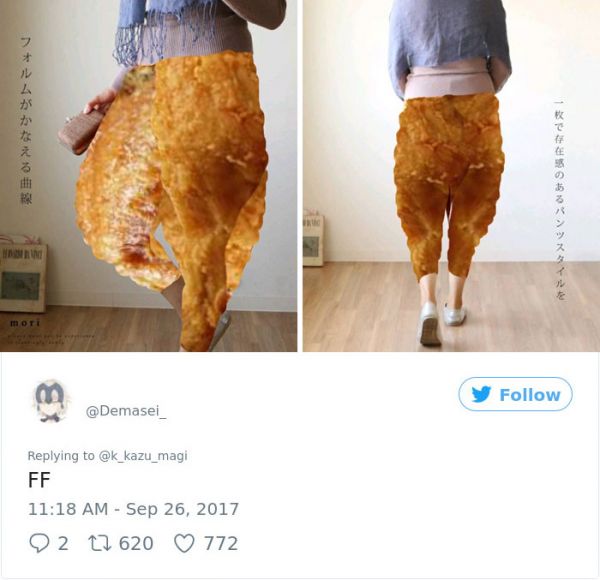 I find it really difficult to disagree with his thought as these pants can't be flattered anywhere.
People following @k_kazu_magi agreed with om and used photoshop to quantify and justify his tweet. It is very difficult to identify the difference between the actual pants and the fried chicken photoshopped picture which was circulated later.
This fashion bizarre reminded many people of these carrots, and they are also right!
The pants in right words are nothing more than any fashion bizarre and nobody would ever dare to embrace them as an attire. If you still have the guts to purchase this way too weird pants they are still available on Rakuten, for US 82 and the complementary tax.
What does this fashion remind you of? Kentucky Fried chicken, carrot or something else. Comment below and let us know.