Child modeling has become a prominent enterprise, due to an outburst of commercial media, hunt for a child model is more in demand than adult models. Modeling agencies prefer an adult model, who has already worked as a model when kids because they have the working relationship experience. We introduce you a 6-year-old child model from Russia, who is being commended as the most beautiful girl in the world. Check her out!
Also, read 16 Things Every Would Be Mother Should Know And It's Important
Meet 6-year-old Anastasia Knyazeva, she is a rising star in the world of modeling.
She is currently commended as the top child model and the most beautiful girl in the world.
She was born on 30th, June 2011 somewhere in Russia.
Her Instagram account was created in 2015, which has more than 543,000 followers and is managed by her mother Anna.
She's done modeling for companies such as Amoreco and KISABIANO.
She has been a child model from the age of four and has captivated the Russian child modeling scenario.
She follows in the footsteps of French model Thylane Blondeau, who had been commended also as the 'most beautiful girl in the world' at the age of six.
Thylane, who is now 16, walks the catwalk for Dolce & Gabanna at the Milan Fashion Week.
Anastasia, the blue-eyed girl,  after dominating Russia is all set to take on the rest of the world.
The most beautiful girl with doll-like features and innocent appearance is being praised by the world and all the modeling agencies.
This successful child model has appeared in a number of campaigns including the Russian renowned brand Chobi Kids.
She was voted the face of Little Miss Aoki in 2016, by Mischka Aoki, that owns a chain of designer kid's clothing.
After receiving such an honor, people predict that Anastasia could be the greatest Russian model in the near future, a crown currently held by Irina Shayk.
In 2007 Irina became the top model of Russia after she became the face of Intimissimi, an Italian lingerie designer.
Irina's huge break came when she was 19, whereas, Anastasia has plenty of photo shoots already assigned to before she can drive legally.
In the Instagram platform, Irina has 9.4 million followers compared to Anastasia's 543,000. Remember, Irina is now 31 and Anastasia is just 6. 
By the time Anastasia reaches 25, she would have bypassed Kylie Jenner's Instagram fan following too.
Apparently, her mother has been criticized by people for making the child into a model at such a tender age.
The mother continuously posts photographs on a regular basis of Anastasia's photoshoots, as well as her backstage photos.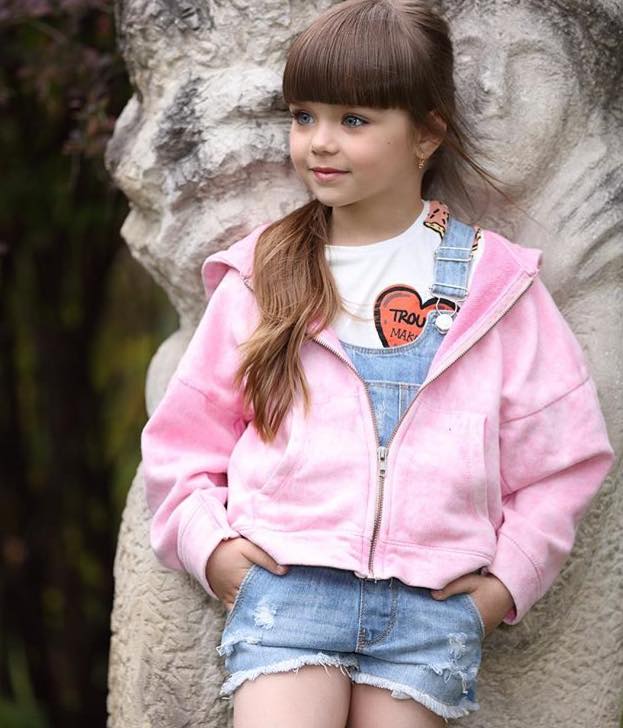 Every post of this beautiful girl receives tons of comments regarding her remarkable features.
One commented 'OMG .. I think she is the most beautiful girl on the earth !!', while another wrote: 'What beautiful eyes.'
Another follower posted 'She really looks like a doll', while one added: 'What a cutie she is.'